At age 16, Sylvia Wang received one of 7 scholarships from the Associated Board of the Royal Schools of Music awarded to the Commonwealth, rotating triennially to her native Malaysia. It was tenable at the Royal Academy of Music in London, where she won many distinctions, including the Harold Samuel Bach Prize and the highest award in solo performance, the Recital Diploma.

In 1983, she crossed another ocean to begin her studies at the Eastman School of Music in the U.S., where she earned the Performer's Certificate, M.M. and D.M.A. degrees, graduating with top honors. She gratefully acknowledges the support and assistance of teachers along the way: Joseph Emuang, Dennis Murdoch, Hamish Milne and David Burge. Additionally, her advanced studies were made possible with the support of the British Schools and Universities Foundation (New York), the Countess of Munster Musical Trust (London) and the Lee Foundation of Singapore.

Winner and finalist for numerous awards and competitions, including the Royal Overseas Music Festival in London, the AVANTI award leading to a debut in London's Purcell Room, Chamber Music Yellow Springs in Ohio and the J.S. Bach International Piano Competition in Washington, D.C..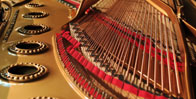 Dr. Wang enjoys a varied career, both in performance and education. In addition to her work with a wide range of solo repertoire, she continues to collaborate with many artists across the U.S. and in Europe, with additional performances in Southeast Asia, Central America, Argentina and Australia. Sample performance venues include the Phillips Collection in Washington, D.C., Teatro Nacional in San Jose, Costa Rica, London's South Bank , St. Martin-in-the-Fields and St. James' Palace, and Cleveland's Reinberger Hall at Severance.